Serene, stunning, versatile blue—a colour that is ever popular in bedrooms thanks to the well-documented relaxing and calming effect the colour blue has on us. Whether you love duck egg blue, sky blue, cobalt, teal, navy, squid ink or powder blue, there are so many gorgeous shades of blue to choose from when you're thinking about a blue bedroom.
Having said that, certain blues are definitely better suited for bedrooms than others. Some blues, like aqua, are energising and therefore might not be best suited to sleeping, while others, like navy or slate, are much more neutral and deliver the tranquillity of blue while remaining timeless and sophisticated.
Certain colours also complement bedroom blues really well. Once you've decided on your base blues, add accents in white, orange, brown or grey, or add gold-toned or brass accents to liven up the palette and add an edge. Blue and grey bedrooms are a classic combo, as are blue and white bedrooms.
Refresh your sleeping quarters with all blue bedroom walls, or just paint a feature wall in your favourite blue–paint will transform your bedroom space and it's a relatively low commitment too; if you aren't happy with the transformation, you can always paint your bedroom in a new colour.
But if you don't want to paint your walls, there's nothing stopping you styling up a blue boudoir with your choice of accessories. Just change up the colour of your soft furnishings (curtains, bedding, cushions, throws, rugs, etc). Or bring in blue in accessories like pots and containers, artwork and other bedroom decor.
Check out our collection of 31 dreamy blue bedroom ideas below—these serene sleeping quarters are sure to inspire you to give your bedroom a makeover!
1. Go for light blues
Light blues are a great choice for bedrooms because they have an extremely relaxing effect and promote good sleep. Amplify the expanse of blue walls in a contemporary bedroom by keeping the bedding in similar tones and then adding interest with navy blue accents. You can further energise your space with some gorgeous bedroom plants, which adds a fresh burst of green to the mix of blues.
2. Choose a deep blue
On the other hand, you might try a deep, enigmatic marine blue. Bright, deep blues are uplifting and invigorating shades to use in bedrooms. Style a bold, rich shade of blue by keeping things simple. Balance the heaviness of a saturated blue wall with plenty of light and white, and warm it all up with wood and metal accents.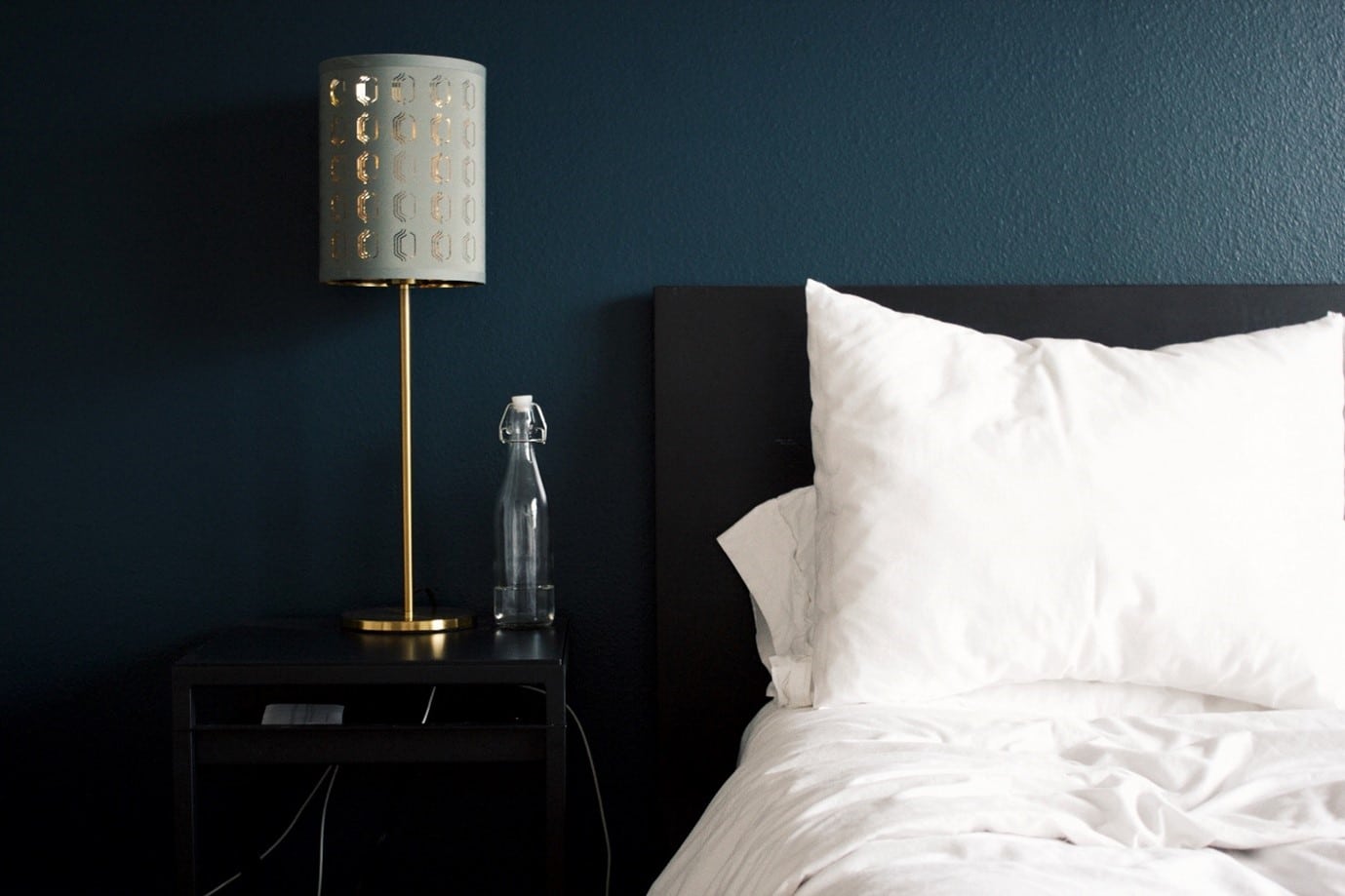 3. Add natural elements
If you love "coastal chic" and Boho bedrooms, choose a very pale shade of blue for the walls and reflect it in the tones of the bed linen. Harmoniously blend in natural materials like a rattan bedframe or timber flooring and allow in plenty of light with sheer curtains.
4. Bring in something vintage
To stop a painted space from looking flat, add in a mix of vintage elements, such as industrial statement furniture or light fittings. Layering your space with both modern and vintage elements will achieve a lovely mix of textures. Try a quirky artwork or lampshade to personalise the space.
Need a handyman to help with picture hanging and also pendant light installation?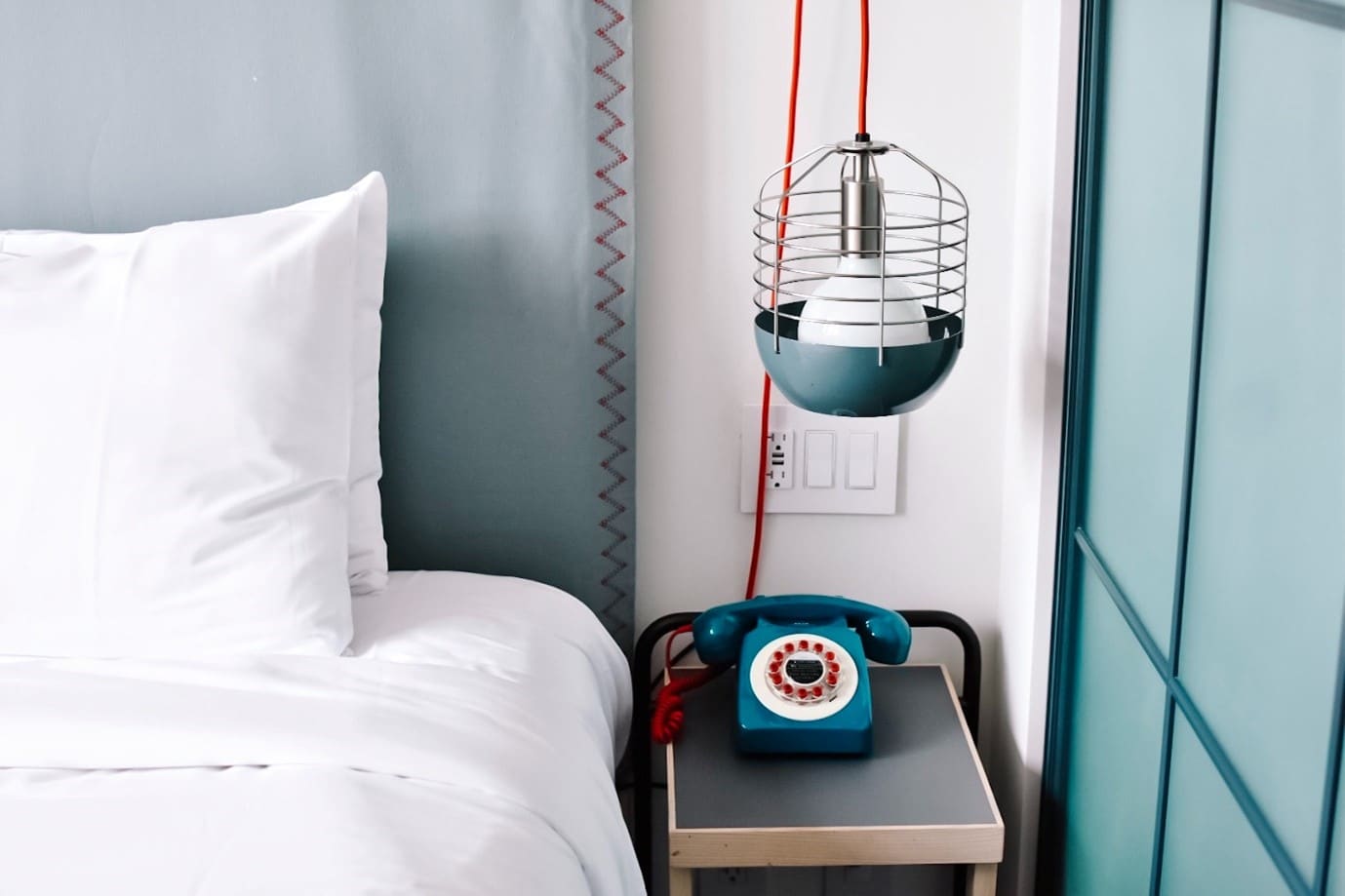 5. Mix soft blue and dark wood
Pretty pale pastel blue walls and a light bedding base create a dreamy, airy feeling in a bedroom. All the brightness can be contrasted and cosied up with a few deep, warm accents, like a timber bedside table and vintage brass lamp.
6. Go black and white and blue
Have a monochrome bedroom? Turn it blue, simply by changing the bedding. Deep blue sheets add just enough blue to the space to make it feel tranquil and cosy. Add a throw in a lighter blue to break up the solid dark blue.
7. Borrow from Japanese style
Japanese style shares some similarities with Scandinavian design, both being very much in favour of clean, streamlined simplicity and an abundance of beautiful natural materials. Make over your bedroom with Oriental flair, for a modern and timeless look. A soft sky blue is appropriately serene for this kind of aesthetic.
8. Opt for powdery soft blues
Powder blues and baby blues have a natural softness to them, so they're very popular blue shades to use in bedrooms. These gentle pastels are highly conducive to sleep and rest and make the ideal bedroom blues. Try a baby blue chunky knitted throw in a predominantly white Scandi-style bedroom.
9. Add warm tones
Bring in some warmth to a cool blue bedroom with accessories in ecru and ochre tones. Here's a designer tip: paint a range of Ikea-style cardboard boxes in colours from your palette and randomly blend them into your space. Reflecting the palette this way creates a pleasing sense of unity and balance.
10. Add pops of white
Dropping in some white accents always refreshes a blue bedroom. Painting the skirting boards white adds a nice crisp touch. If your skirting boards don't look as nice as this, it might be time to speak to a tradie who specialises in skirting boards.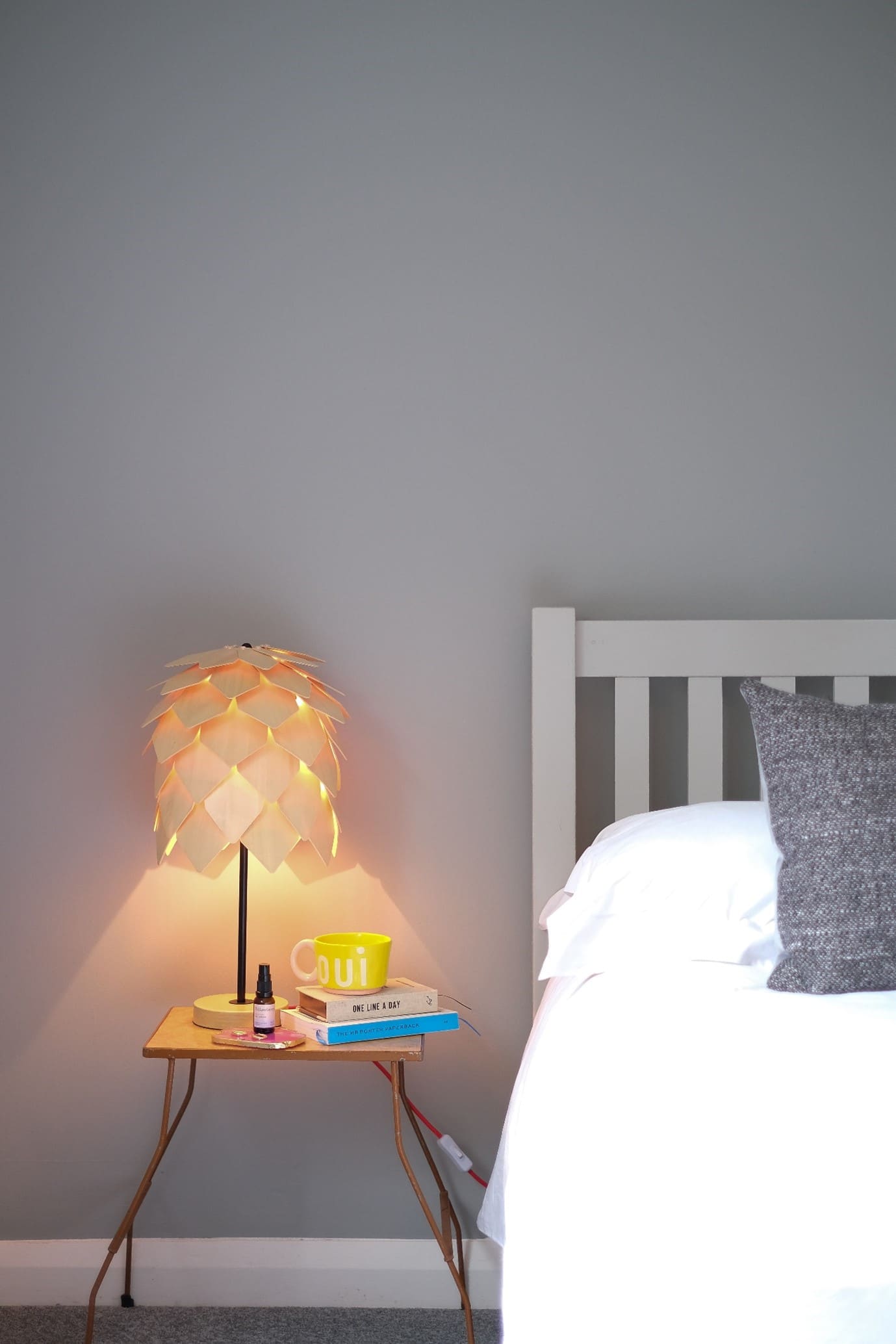 11. Luxe it up with velvet
The velvet bedhead trend is still going strong. Something like a luscious, scalloped velvet bedhead will add a sumptuous touch to your bedroom. Another dramatic option is to cover the walls in velvet!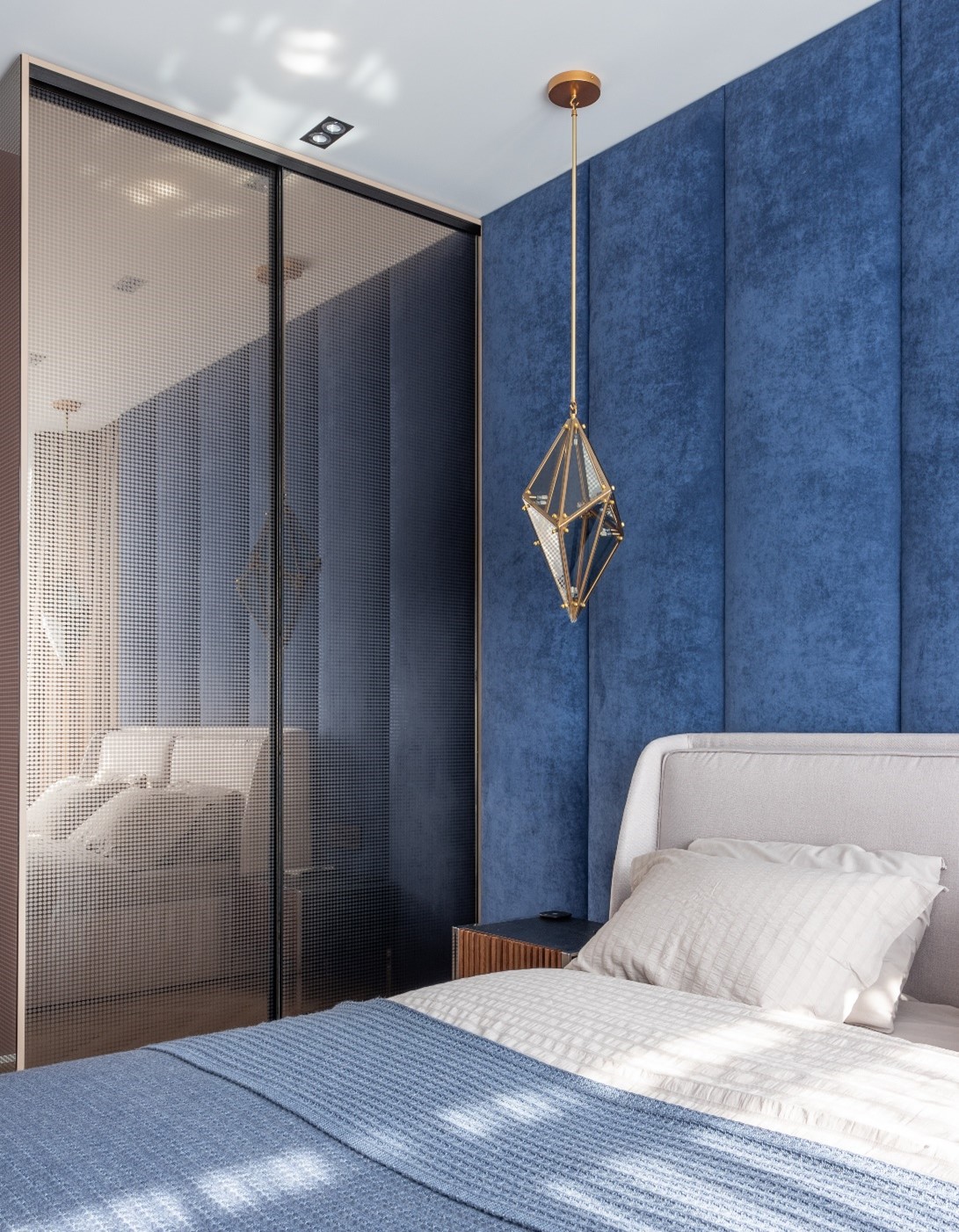 12. Create a Boho Boudoir
If you love the Boho aesthetic then start by painting your walls a stunning saturated teal blue. It looks perfect with rattan and cane elements and delivers a rich, warm and inviting space.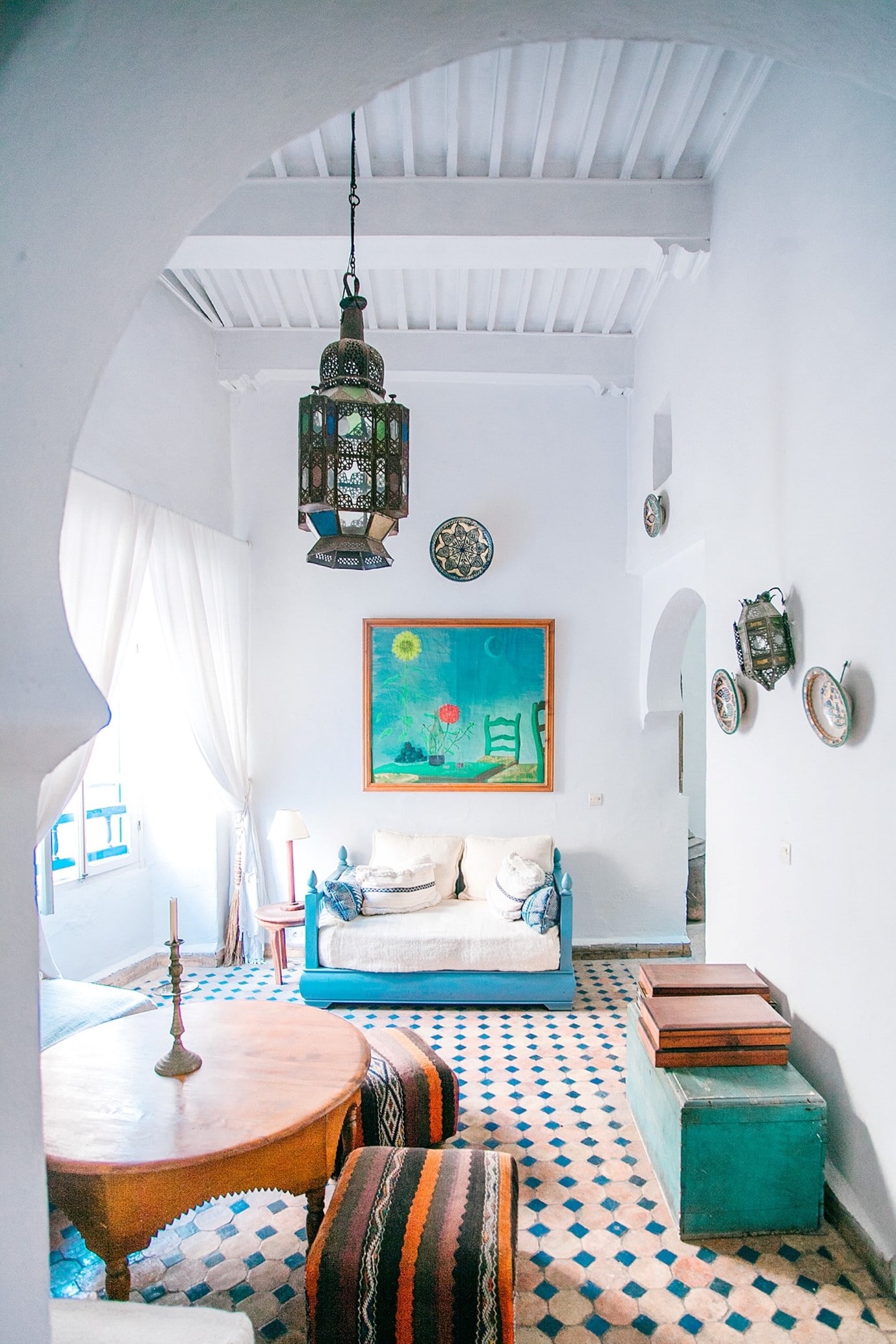 13. Add gold tones to navy
It's a classic combo. Navy is a shade of blue that just goes so well with gold-toned décor. You might bring in blingy glam touches with the light fittings or pick up a gold tone in a rug.
14. Go for an industrial look
Add in plenty of grey with your blues, for a strong industrial aesthetic. This might mean pale grey, concrete floors or walls, contrasted with vivid midnight blue cushions or a cornflower blue throw. Add a trio of pendant bulbs to complete the look.
15. Add a leather headboard
Navy is an inherently calming shade of blue and it also conveys luxury and elegance. You can add to that effect if you are going for navy, by adding a luxe leather headboard. Tan leather looks amazing against navy, then just add in white accents in the lighting or pale timber bedside tables. Soft greys also look wonderful with navy, like charcoal linen and a pale grey knitted throw.
16. Put up wallpaper
Instead of painting your bedroom walls blue, why not add gorgeous blue bedroom wallpaper. Extra points if it's made of grasscloth as you'll get that lovely texture as well as looking highly contemporary!
17. Mix neutrals and natural blues
For a breezy coastal-style bedroom, deck it out in soft blues and neutrals. Ensure you add lashings of interesting texture with natural materials like timber furniture, woven wall décor, a sheepskin rug on the chair, or a vintage area rug that picks up the colour scheme.
By the way, did you know you can easily hire a local Tasker to help you assemble your bedroom furniture, including beds and daybeds, dressers, wardrobes and any other bedroom furniture you might need to be assembled?
18. Go for elegance with Royal blue
Royal blue can be a tricky colour to work with in decorating—sometimes it just looks wrong. However, it can look nicely regal and refined in a master bedroom. Shades of Royal blue and Prussian blue are sophisticated choices– Royal blue is a bold saturated midnight blue, while Prussian blue is a brighter but just as intense shade of blue. Painting all your walls? A white ceiling can help prevent it feeling like a box.
19. Go for a restful mid-blue
Achieve a restful blue bedroom using a flat mid-blue to imbue the space with calm and serenity. For a simple contemporary setting, blend in a mid-grey upholstered bedhead, matching grey bedsides and rug, together with a few deeper blue and bright white touches. Add sophistication with metallic elements in the mirror frame, light fittings and ornaments. And unify it all with an upholstered blue bench.
20. Mix blues and browns
Choose a striking palette of blue-greys and browns, offset by crisp whites. It will give your bedroom an earthy masculinity. You could add a little landscape painting to increase the rustic charm of your brown and blue bedroom.
21. Add zesty pops of orange
A darker-toned blue bedroom can sometimes veer towards unwelcoming and to avoid this, simply add some warmer accents. For example, you could warm up a sophisticated blue grey bedroom with pops of orange in the bedding which really lifts the energy of the space.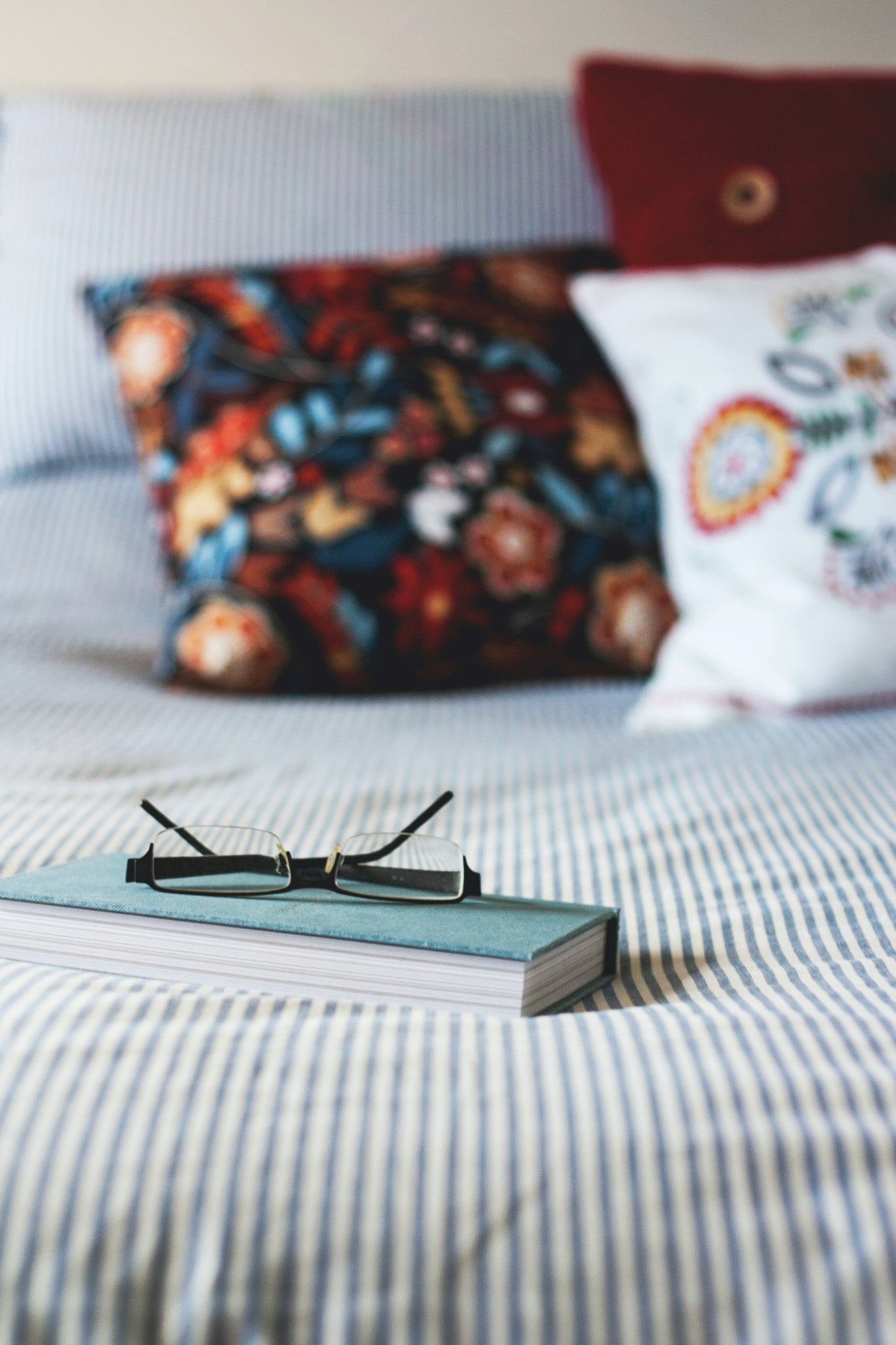 22. Try subtle grey blues
Matte navy like a sky at dusk makes a peaceful backdrop for a bedroom. And it looks especially modern mixed with greys and whites.
23. Go for colour blocking
Keep your bedroom tonally in sync by mixing a range of blue tones. For example, a peacock blue bedhead and light blue bedroom walls. To keep it feeling all too blue, add soft violet bed linen.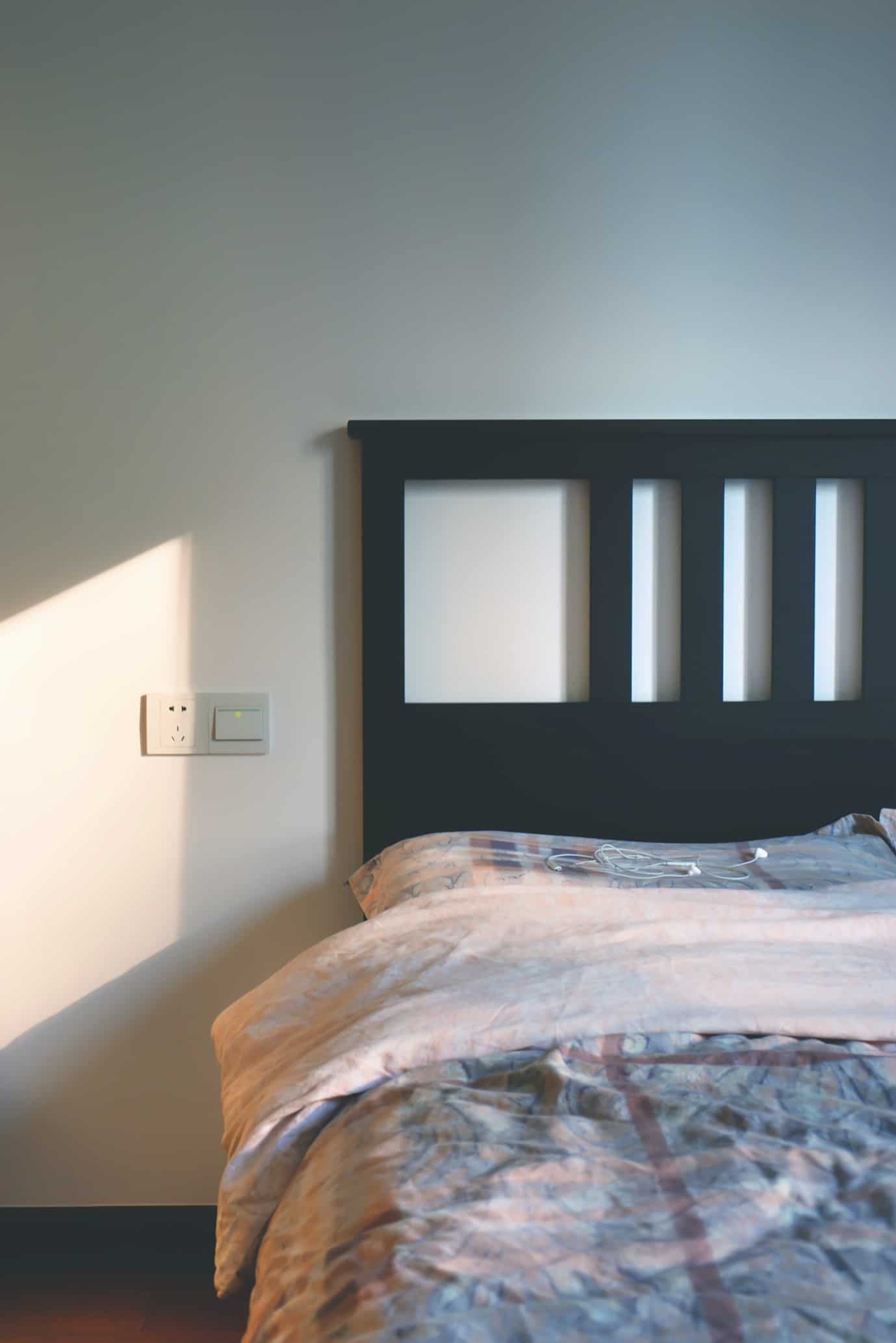 24. Think about aqua
Aqua is definitely a much less common choice for blue bedrooms but if you can pull it off, it makes a strong style statement. It often works for a Boho bedroom as a turquoise hue is consistent with American Indian influenced decorative touches, for example.
25. Have an accent wall
If you aren't willing to commit to a full paint job then you might like to add an accent wall to add a splash of blue instead.  A blue accent wall create a stage-like feeling and makes your bed the focal point. Consider a calming slate blue, complemented by green and blue bedding and tropical rattan lampshades.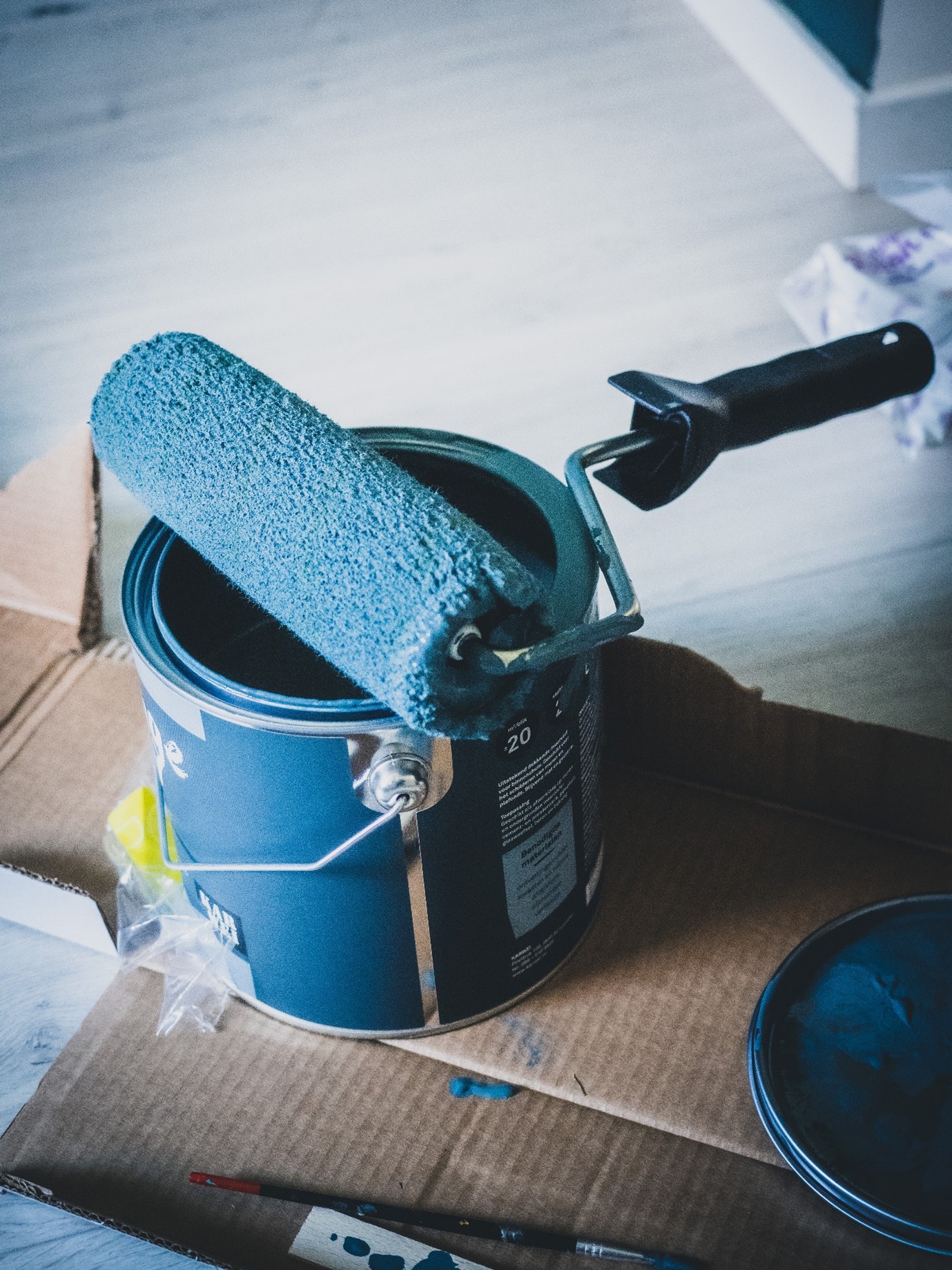 26. Teal tales
Here's why experts say teal is such a great colour for bedrooms. It combines the "growth" qualities of the colour green with the "nourishing" qualities of the colour blue. This makes it perfect for spaces in which you wish to meditate, reflect, or spend time on self-care.
27. Put your head in the clouds
A bold blue wallpaper can really transform a room. But when you go with a dramatic wallpaper such as a cloudscape effect, you'll want to pare back on other elements in the space. Opt for a simple bedhead and plain bedding and otherwise keep décor quite minimal.
It is possible to do a good DIY job with wallpaper but to make sure it looks perfectly professional, consider hiring an expert in wallpaper installation.
28. Consider cobalt blue
A deep dark blue can feel very restful, especially when mixed with refreshing white. A rich and vibrant cobalt blue adds depth and contrast to the room and imbues it with an overall calmness. Keeping the ceiling white stops the dark blue from feeling too heavy and it also makes the room seem more spacious.
Does your ceiling paintwork need a spruce up? Check out our DIY guide on how to paint a ceiling.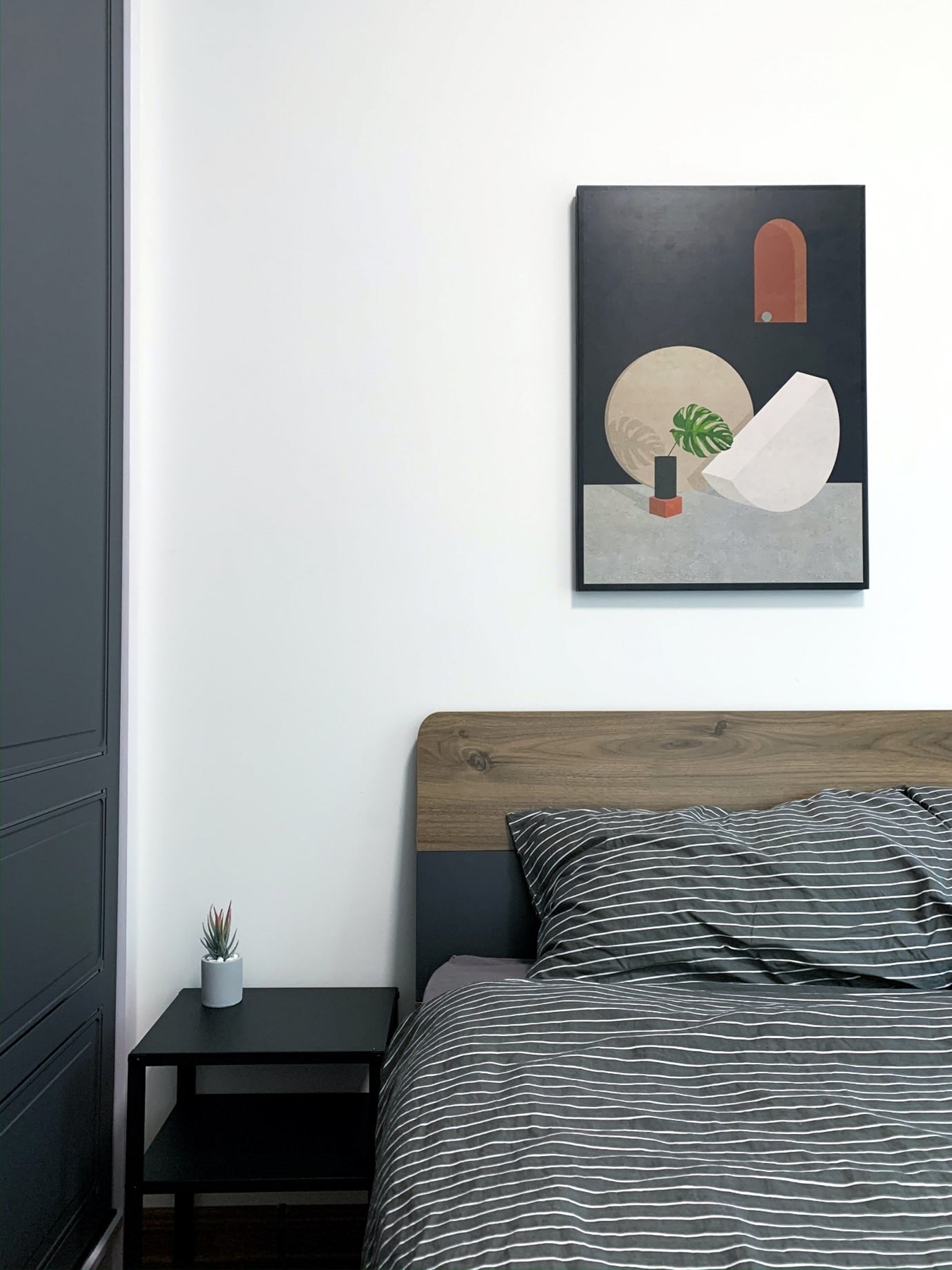 29. Go for Nordic blues
For a bedroom with a distinct Scandi flavour, go for a palette of Nordic blues: faded denim, navy and storm. Then contrast with chalky whites and subtle dashes of fern green and lead grey.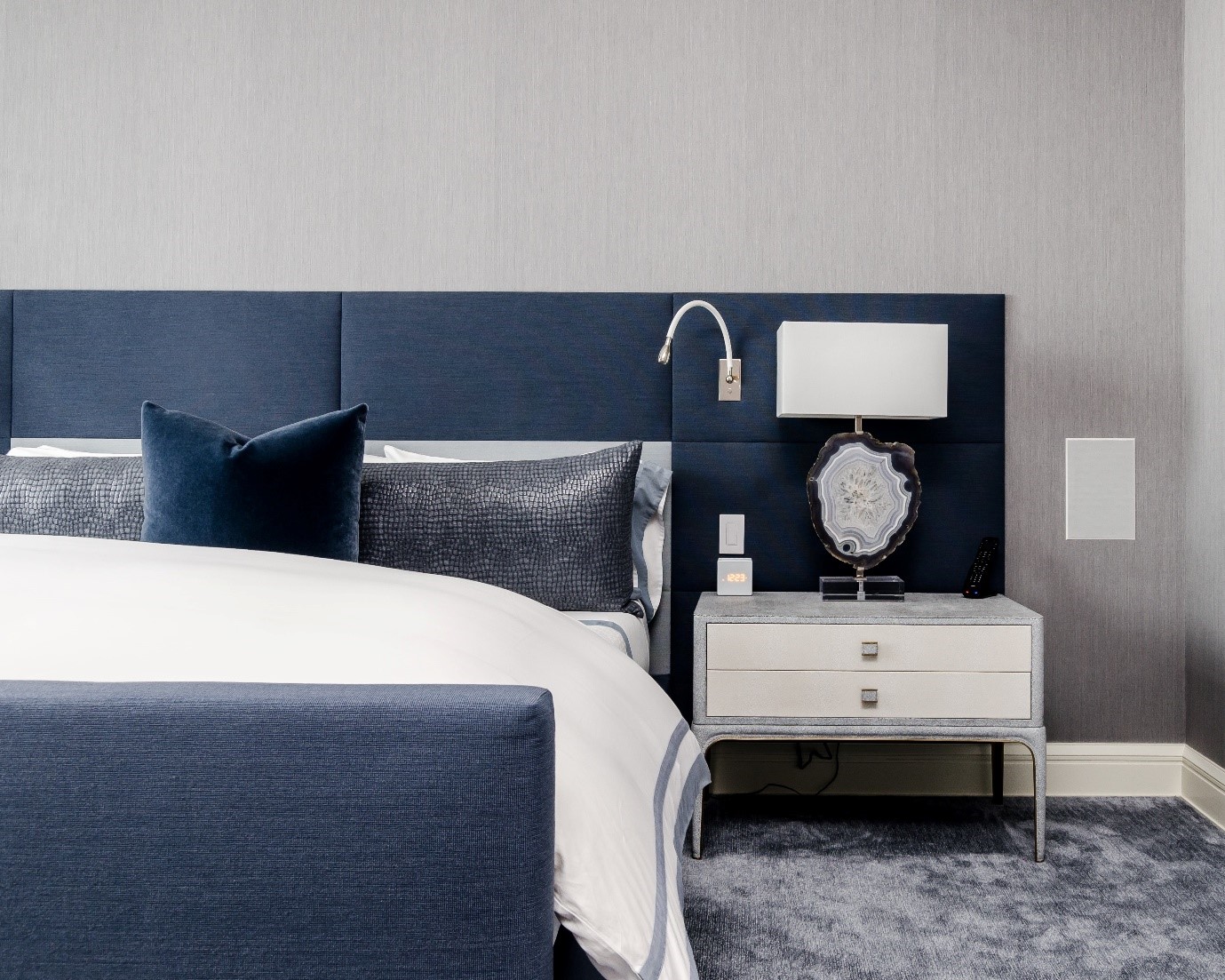 30. Add vitamin sea
Well-known past The Block contestants Kyal and Kara have decorated their own seaside home in a strongly contemporary coastal style, with rooms painted gorgeous ocean and sky colours, and filled with stunning wooden furniture and timber accents. If you love the beachy vibe then blue is a natural choice for your bedroom—a seafoam paint colour is perfect.
31. Try minty freshness
With "neo mint" being a popular interior design colour, if you want to instantly modernise your bedroom then you could consider painting the walls in this refreshing but more mature version of always-cheerful mint.
And that's a wrap on my suggestions for how to bring blue into your bedroom. Let me know in the comments below if any of these blue bedroom ideas have piqued your interest—which is your favourite?
Ready to embrace the bedroom blues? If you'd like some help with getting your colour palette right or perhaps sourcing the best blue décor, you can always consult a local home decorator. And if you've decided a paint job is the way to go, go ahead and find a local painter to bring it all to life. You might also like to revamp your bedroom carpet to fit in with your new blue colour scheme. If so, find yourself a local expert in carpet laying.